Cape of Colours strives to help companies fulfill their corporate social responsibilities through donations, in-kind items and/or volunteering efforts to our student beneficiaries. We aim to connect the corporate and student communities to grow a mutually beneficial long-term partnership.
We have had successful partnerships with several companies and look forward to growing new connections with the corporate community.
"Nurturing the younger generation has always been my passion and it's a joy to give back to the children in our community through Cape of Colours."
Belinda Yeo,
Business Owner, MindChamps Preschool @Fusionopolis
MindChamps Preschool @ Fusionopolis is a leading preschool in Singapore that offers academic & enrichment programs for children from eighteen months to six years old, in the playground, nursery and kindergarten levels. MindChamps Preschool @ Fusionopolis has generously committed to give back financially to support the cause of Cape of Colours.
"Today I am at Northbrooks Secondary School representing Cargill and Cape of Colours and I hand over the scholarships today to 15 students. It's been a heartening experience for me because the philosophy that Cape of Colours has is an extension of my personal philosophy on supporting education."
Paresh Bellani,
Assistant Regional Treasurer, Cargill Asia Pacific
Cargill in Singapore is the regional hub of Cargill in Asia-Pacific, an international producer and marketer of food, agricultural, financial and industrial products and services that is committed to helping the world to thrive. Cargill in Singapore has made a generous donation as part of their corporate social responsibility in support of Cape of Colours Scholarships.
JTH Group provides support to its two technology divisions (Innovix Distribution & JOS), both of which have long experience and solid reputations in Asia as market leaders in their own rights. JTH Group hosted a Christmas Party for 20 children beneficiaries from our Free Tuition Programme and their staff generously contributed to the Adopt-A-Wish Christmas gifts as part of their corporate social responsibility in support of Cape of Colours. The children got to enjoy the office tour, the terrarium workshop, a sumptuous lunch buffet and the Christmas gifts.
Founded in 1993, Singapore Repertory Theatre (SRT) is one of the leading English-language theatres in Asia. SRT's mission is to enrich, engage and entertain audiences by staging theatrical productions of the highest calibre, collaborating with the best talent in the world. SRT has generously sponsored 70 tickets for our student beneficiaries from our Free Tuition Programme for "The Nightingale" musical in support of Cape of Colours.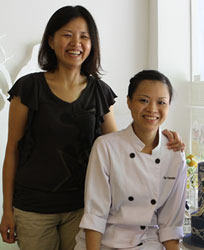 "Becoming a millionaire from the business is never our goal for Flour Fancies but being part of something great (giving back) is what we set for Flour Fancies. Inspired by Icing Smiles, we've always wanted to kick off a similar project in Singapore. Our biggest reward is creating a cake that earns someone's precious smile. Dreaming is good but making it happen is even better. Partnership with Cape of Colours for the "12 Cakes" initiative is our dream come true." 
Samantha & Alice,
Owners of Flour Fancies
Flour Fancies (www.flourfancies.com) is a cake boutique that believes each cake and cookie is an expression of one's unique style. They are committed to provide their customers with sophisticated works of art and mouthwatering delicacies. Their cakes and cookies are all individually made from scratch using only the freshest and finest ingredients.
During each month of the year, under the "12 Cakes" initiative, Cape of Colours would select one financially-challenged student from our Free Tuition Programme to receive a surprise birthday cake sponsored and designed by Flour Fancies, and specially delivered by our Community Care and Development Team.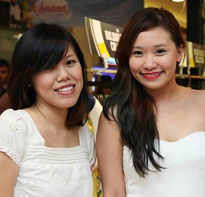 "BAG for BAG is a special collaboration with Cape of Colors, an initiative by YACHT 21 to do our part in social giving! We are very happy to kick off the campaign by giving 15 free YACHT 21's designer suitcase bags to 15 chosen students who did well in studies but are financially needy"

Jaren Ho,
Founder of YACHT 21
YACHT 21(www.yacht21.com.sg) is a Singapore-based designer label established in 2009, dedicated to create cruise wear that is timeless and functional. Each collection is made from luggage-friendly material such as cotton, denim, microfiber and poplin - which is easy to pack, lightweight and breathable.
As part of the launch of a collection of designer suitcase bags, for every bag that is sold at their stores, YACHT 21 will be generously donating a designer suitcase bag to benefit the students under Cape of Colours.
"Art educates. It's exciting to witness the transformative role of the arts in youth development and it has been a fulfilling journey working with schools through our partnership with Cape of Colours."
Tan Suet Ferng,
Community Arts Director, Yellowren Productions
Yellowren Productions (www.yellowren.com) is an community arts company based in Singapore. The company envisions to effect lives with stories of renewal and to bring about the transformation of communities through the arts. Also, Yellowren creates a platform for innovative artists to bring and bridge the expressions of their works within communities, igniting conversations, relationships and stories.
Yellowren Productions organizes an annual Yellowren Arts Festival, where Cape of Colours is the festival's cause and beneficiary. Visitors to this festival could support Cape of Colours through the purchase of festival merchandise.
Cape of Colours also partners Yellowren Productions in bringing arts to our student communities as a supporting sponsor of the annual Inter-School Art & Dance Competition and also arts projects involving our school beneficiaries held in conjunction with Yellowren Arts Festival. 
In addition, Cape of Colours collaborate with Yellowren Productions to introduce the Transformative Arts Programme to  schools in Singapore. Besides focusing on the academic performance of the students, it is important not to neglect the social, emotional and creative aspects of their lives that have impact on their ability to perform at their best.